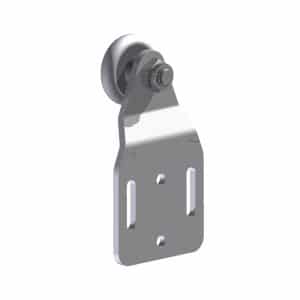 SLID'UP 110, 120 – Sliding closet door hangerequipped with reversible ball bearing rolller
Proud manufacturer of SLID'UP products
SLID'UP 110, 120 – Sliding closet door hanger
equipped with reversible ball bearing rolller
Proud manufacturer of SLID'UP products
SLID'UP 110, 120 – Sliding closet door hanger
equipped with reversible ball bearing rolller
5 year warranty
Shipped from Canada
1. General information:
– Ball bearing roller for sliding systems SLID'UP 110 and SLID'UP 120
– Screwable nut makes the roller reversible
– Silent and smooth rolling for your sliding doors
NEW and FREE: all our tracks and fascias can be cut to the size you want. We can do it for free. You need to mention it in your order, in the comment section (mention the exact length to be cut to, in inches or centimeters).
2. The kit includes:
– 1 ball bearing roller for SLID'UP 110 and SLID'UP 120 ranges
– Screws and instructions
3. Options and accessories available to improve your sliding systems and doors:
– Handles, adhesive brush seals, locks, wardrobe lifts and many more
Range
SLID'UP 110, SLID'UP 120
Une « encoche » ou un « arrêt » à la bonne hauteur sur les plaquettes qui supporte les roulettes serait une bonne idée. Au moins un angle plus net afin de les placer sans avoir à rectifier avec le niveau une fois en place ....

Francine S. 08/01/2018 following an order made on 09/01/2018