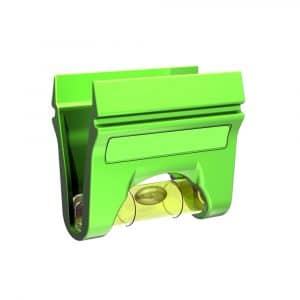 Spirit level for sliding door track- Compatible with SLID'UP 1000, 1100, 1200, 1300 tracks
Proud manufacturer of SLID'UP products
Spirit level for sliding door track
- Compatible with SLID'UP 1000, 1100, 1200, 1300 tracks
Proud manufacturer of SLID'UP products
Spirit level for sliding door track
- Compatible with SLID'UP 1000, 1100, 1200, 1300 tracks
5 year warranty
Shipped from Canada
Product can be returned
1. General information:
– Spirit level to clip on the track
– For SLID'UP 1000, 1100, 1200 and 1300 ranges
– 1/64 in accuracy
– Dimensions (L x W x H) : 1-3/4″ x 7/8″ x 1-1/2″
This spirit level helps you to install your sliding system alone.
CONVENIENT: pocket format and rubber material
FREE SERVICE: We can cut tracks to match your specific dimensions. Simply mention it in the comment section when placing your order (please include exact length).
2. The kit includes:
– 1 spirit level for SLID'UP 1000, SLID'UP 1100, SLID'UP 1200and SLID'UP 1300
3. Otions and accessories available to improve your sliding systems and doors:
– Handles, adhesive brush seals, locks, wardrobe lifts and many more
Do you have every product in stock?
We normally have every product in stock. If an item is out of stock, we will inform you on the website.
What is the condition of the products?
All of our products are brand new.
Does SLID'UP hardware come with a warranty?
Yes, all our products come with a 5-year warranty.