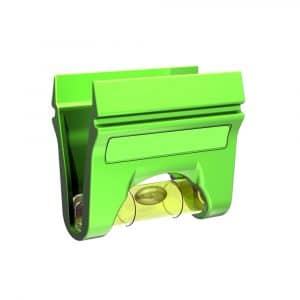 Spirit level for sliding door track- Compatible with SLID'UP 1000, 1100, 1200, 1300 tracks
Proud manufacturer of SLID'UP products
Spirit level for sliding door track
- Compatible with SLID'UP 1000, 1100, 1200, 1300 tracks
Proud manufacturer of SLID'UP products
Spirit level for sliding door track
- Compatible with SLID'UP 1000, 1100, 1200, 1300 tracks
5 year warranty
Shipped from Canada
Product can be returned
1. General information:
– Spirit level to clip on the track
– For SLID'UP 1000, 1100, 1200 and 1300 ranges
– 1/64 in accuracy
– Dimensions (L x W x H) : 1-3/4″ x 7/8″ x 1-1/2″
This spirit level helps you to install your sliding system alone.
CONVENIENT: pocket format and rubber material
FREE SERVICE: We can cut tracks to match your specific dimensions. Simply mention it in the comment section when placing your order (please include exact length).
2. The kit includes:
– 1 spirit level for SLID'UP 1000, SLID'UP 1100, SLID'UP 1200and SLID'UP 1300
3. Otions and accessories available to improve your sliding systems and doors:
– Handles, adhesive brush seals, locks, wardrobe lifts and many more